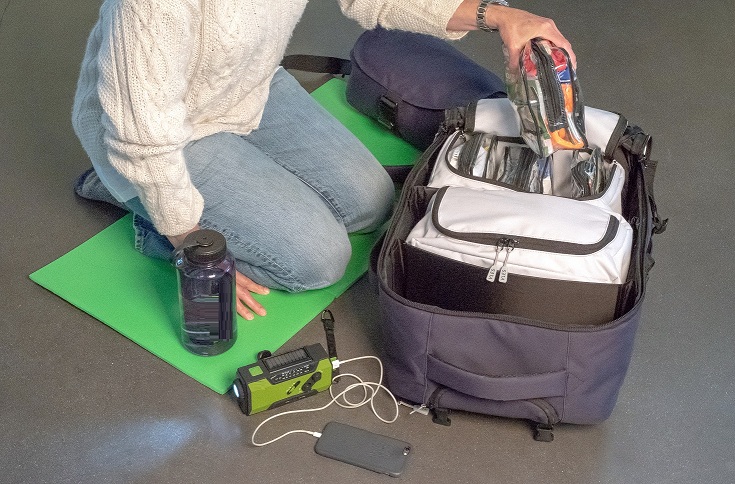 If you live in a susceptible area, it's especially important that you take precautions on how to survive a hurricane. A hurricane is a type of tropical cyclone that can cause torrential rains, high winds, storm surges, and flooding for 2 weeks or more over open water and can follow a path across the entire length of the eastern seaboard, its coastal areas, and barrier islands. A hurricane is primarily defined by its wind speeds, which must be 74 mph or greater, anything less, and the cyclone is classified as a tropical storm. Either way you want to take precautions to be ready for hurricane season.
If a hurricane is likely in your area, you should:
Stay informed by monitoring the storm via local radio, TV, and internet. Listen for alerts in case you need  to evacuate.

Secure your home and close storm shutters. Even awnings can be broken and picked up by strong winds and potentially become a danger.

Bring all lawn furniture, grills, trash barrels, bikes, hanging plants, toys, and gardening tools inside or make sure they are  tied down in a secure spot. 

Turn off utilities if instructed by authorities to do so. Otherwise, turn the refrigerator and freezer thermostat to its coldest setting and keep its doors closed.

Move freezable items from the fridge to the freezer.

Turn off propane tanks.

Ideally, move any electronics to higher shelves to keep away from water damage.

Have your cell phone on a charger so it's ready to go. Then avoid using the phone except for serious emergencies.

Remember: Have a certain amount of cash available. If power is lost, ATMs may not be working.

Secure  your boat if time permits.

Ensure a supply of water for sanitary purposes such as cleaning and flushing toilets. Fill the bathtub and other large containers with water.

Have on hand: fire extinguisher, emergency/first aid kit, prescription medicines, flashlight/batteries, blankets/sleeping bags, cooking/eating utensils, canned foods, water bottles, jumper cables, paper maps, GPS, toilet paper, toiletries, rain gear, 

Stay inside.
If you live in a state that gets frequent hurricanes, like Florida, Georgia, or the Carolinas, agencies like the Federal Emergency Management Agency (FEMA) and National Oceanic and Atmospheric Administration (NOAA) advise you to be ready before the start of hurricane season. Your preparations should include a "Family Disaster Plan" and an "Emergency Disaster Supply Kit" that's easy for the family to locate in a hurry.
A family hurricane (emergency) plan outlines what you will do in an emergency. Plan out your emergency evacuation routes, for example, and try to have several in case a favored one is unusable. Agree on where to meet if you get separated. A hurricane kit is something to have ready at a moment's notice. It should have the basic things you'll need to survive on your own for at least 72 hours, like food, water, a first aid kit, and lights. Once the winds reach tropical force, preparation is impossible, and you will have to focus on survival. So make sure you don't get caught off guard and prepare for hurricane season. It's better to be ready than sorry.
During a Hurricane, if you don't have to be evacuated, go to your safe room. If you do not have a safe room make sure to follow these guidelines. Stay indoors and away from windows and glass doors. Close all interior doors and secure and brace external doors. Keep curtains and blinds closed. Do not be fooled if there is a calm moment, don't be fooled. It could be the eye of the storm, winds will pick up again. Take cover in a small interior room, closet, or hallway on the lowest level of your home. Lie on the floor under a table or another sturdy object. Do anything you need to to stay safe.
Recovering from a disaster like a hurricane is usually a gradual process. Safety is always the primary issue, as are mental and physical well-being. Make sure your family is safe and out of danger. Hurricanes are no joke. It is nothing to be taken lightly. Make sure you are prepared and have a hurricane kit ready. It's better to be prepared than to suffer any consequences. The more prepared you are, the better the aftermath could be. So make sure you get yourself prepared for hurricane season!!!