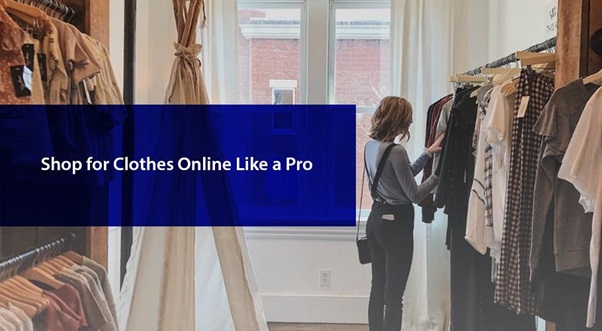 We all love shopping online due to the convenience it has to offer. You can be anywhere in the world and still have access to clothing items that are not readily available in your area. However, shopping for clothes online is a tedious task if you do not know how to make the right decisions.
Here are a few tips that can help you have a stress-free online shopping spree!
How to shop for clothes online like a pro
Measurements – know them all!
When shopping for clothes, whether from a physical store or an online one, the fitting of the clothes is perhaps the biggest concern of all. It becomes twice as difficult to find well-fitting clothes when shopping online. So, there's a quick fix for it. Get your measurements right. The three most important measurements you will always need for shirts are are chest, shoulder and length. For trousers and pants, length and waist are two most important measurements. It is better if a professional takes your measurements beforehand, and you can note these down in your phone so you can use them instantly when shopping online. Keep in mind that all clothes tend to fit differently due to different cuts and styles. Even the type of fabric can change how a piece of clothing fits. However, when shopping online, you need to take a few chances and wish for the best possible product.
Size charts – a must-have
All good clothing stores online have size charts. These charts may be specific to how a brand or the store makes clothes, or can also be pretty generic. For example, a shirt that has lose cuts and a lose fit will most likely have bigger measurements than the standard shirts. Stores with a good sizing chart system will provide product-specific size charts with such clothing items. However, generic size charts also work well with standard fitting.
The only thing you need to understand is the difference between size charts of different countries. The 2 standard sizes most of the brands and stores follow are US and UK size charts. US sizes are 2 numbers smaller than UK's. So, if a US size 12 fits you, a UK size 14 will be the right choice for you. Countries like Japan and Italy also have their own size charts, but these are rarely used.
Reviews and ratings save the day
Yes, paid reviews are a huge thing these days. It's hard to tell apart between real and paid reviews. However, this does not mean that there is no authenticity in any of the reviews. Platforms like Amazon still have a bunch of reliable, verified-customer reviews that you can use to assess the quality of a product. People also post pictures of the product they receive, so you can understand what a product will look like in real life. If you don't have the time to go through all the detailed reviews, star ratings are also a quicker overview of what customers feel about a product.
Some stores even reply to complains given by customers. You can use these threads of conversations between a seller and a customer to see how they deal with their customer in case of unsatisfactory situations.
Return policies – be a thorough reader
You might not be a fan of reading for pleasure, but as an online shopper, reading will eventually lead to a satisfactory purchase! Stores and brands have a detailed return and refund policy that customers often miss. There are many loopholes and specifications within the policy that we must be careful of when requesting for an exchange, refund or return. Make sure to look for their return policies on their website or online page. If you can't find it yourself, reach out to their customer support or send them a DM on their social media page. All reliable, professional and good online stores will have a detailed policy ready for their customers.
Be aware of some online shopping limitations
Yes, online shopping is great due to the convenience, cost efficiencies and time efficiency it has to offer. You can scroll through online stores and browse through thousands of products in no time. Custom filters make it even easier for you to find yourself the right product. Our fast speed and cheap Internet Services  at home make it easier for us to literally buy a product and even make payment online without worrying about a product going out of stock.
All these pros of online shopping should not cloud your judgment about the certain limitations online shopping have. You must be flexible enough to accept that fact that there might be some difference in how the color of the clothing item appears on your phone screen and in reality. The product picture is taken under certain lighting conditions and with different camera qualities. Even your phone screen changes color quality. So, expect there to be some difference in the color.
Moreover, the embroidery on some clothes or small prints can also be slightly misleading when shopping online. Models with different figures and body shapes wearing a shirt will look different than how the shirt looks on you. It is good to ask a seller what size the model is wearing, so you can assess its fitting accordingly.
However, this should not mean that you must accept products that do not match the description or the images given by a seller at all. We are talking about very slight differences here, such as a shirt looking like bright and shiny pink in a picture but matte and subtle in reality. If the picture is of a shocking pink shirt and you get a baby pink shirt, this should be acceptable.
Alterations are a great backup plan
Just because those pants are an inch lose or a shirt is longer than you expected, doesn't mean you have to return it. Returning and refunding an item bought online has its own costs and takes time too. It is good to have a tailor or anyone who can do minor alterations to ready-made clothes as backup plan. You can always make small alterations to your clothes and style them in different ways. If nothing works out, save those beautiful items and give them away as gifts on several occasions to your loved ones!
Be eager to try the clothes on
The sooner you know you have to return or exchange a product, the better. Sellers and online stores also prefer when customers apply for exchange or return instantly, so that there are fewer chances of customers doing a fraud and causing damage to clothes before returning it. This way, the clothing store will also have less arguments to make, and will have to accept that the fault was in the product itself and not yours. Don't ever throw away receipts, whether digital or printed, and don't take the tags off of the clothes without being 100% sure that you want to keep them.
Conclusion
You are now all set to shop like a pro at any online clothing store or brand. Fool proof tactics, such as keeping your measurements always at hand and trying on clothes as soon as they reach you, make sure your money does not go to waste!